sho-Q takes PowerPoint presentations to a higher level.
sho-Q software is specifically designed for lecterns adn e-podiums featuring touch screens. Sho-Q supports presenters with intuitive slide navigation, easy transitions between multiple presentations and straightforward planning. No training is neccesary.

The program offers agenda planning and seamless switching between sessions or presenters. It only takes 4 seconds to go from any slide in one presentation, to a slide in another presentation.
The audience only sees a seemless transition.
When you use sho-Q Planner, preparing a meeting or seminar can be done in a matter of minutes.
Check the Top Ten Reasons to Use Sho-Q to see how sho-Q can help you deliver better presentations and deal with common problems that crop up during conferences and meetings.
sho-Q Presenter view: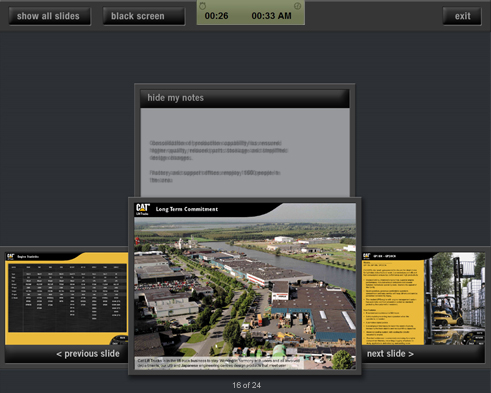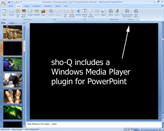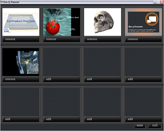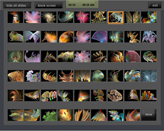 click on the images for a larger view

sho-Q presenter features:
Specifically designed for large touch screens: just tap the slide to navigate.
Simple, clean design that is intuitive and doesn't interfere with your presenting style.
sho-Q Presenter helps you maintain your train of thought. It shows the current, previous and next slide at a size that is easy to read. Slide notes are shown if relevant.
Context sensitive controls are shown within the current slide to control animations and multimedia embedded in the presentation.
Show-All-Slides function to navigate quickly within the presentation.
View timer and clock simultaneously.
A 'Black screen' button.
You can queue multiple presentations for different speakers at an event, allowing the next presenter to walk to the lectern and start his presentation immediately. All available presentations are shown on a single screen by their first slide. New presentations are easily added: just tap the first empty frame and insert your presentation.
Read presentations automatically from a USB stick.
Use clicker or remote any time, automatically keeps the viewer in sync.
sho-Q assists in the proper embedding of video animations and flash files in PowerPoint presentations, assuring controls to start, pause, and continue all work
THE NEW sho-Q 10HD IS OUT!
Download here to try!

[This page will be re-written with the latest information, New sho-Q10 HD is compatible with all current Windows versions. Do not hesitate to provide feedback. Write to support at intelligentlecterns.com]
Download and Evaluate sho-Q
Download an evaluation version of sho-Q.
The software comes in 3 parts: the Presenter allows you to give presentations with ease, the Planner makes it possible to set up multiple presentations ahead of meetings from any PC, and the Pre-processor allows anyone to carry a power point on a USB stick for instant presentation with sho-Q Presenter.
Note that this is an evaluation copy of sho-Q presenter. To remove the 'evaluation' mark from the program, you'll need to buy the software. Further details can be found in the package.
Please choose your operating system so we can direct you to the download page.
Do you want to experience the look and feel of Sho-Q before you download it?

Click here for an overview of Sho-Q's functions
(this page requires Flash)
Finding a suitable lectern
Most lecterns that can be classified as Intelligent Lecterns are found on this site under the Lecterns tab.
sho-Q was written in particular to turn this product category into highly productive tools. It aims at frequent presenters of meetings, teachers, and conference organizers.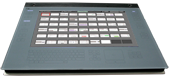 Test-drive sho-Q and find lectern solutions. Turn your presentations into professionally run events. ILS features integrated systems including 17"–22" sized touch sensitive displays, up-to-date processing power and varying capabilities. All systems have passed stringent certification for reliability, durability and user comfort.
Third party solutions
Integration of the sho-Q presentation software with third party solutions to capture the presentation. This will allow you to mix presenter and data, and stream it live from the ILS Speakerscorner familylecterns.
Darim e-learning
Ubicast easycast