Latest News
ILS strengthens its Middle East client support
Assen, January 2021
We are pleased to announce that Youssef Omar is ILS's new business developer/customer support person.
Youssef holds an MSc in Marketing management from Nottingham Trent University and is getting deeply immersed in the ILS technology, its durability philosophy and AV requirements in general.
We are all confident that Youssef will take on his new responsibilities with the same enthusiasm and professionalism, using his experience dealing with international people in Arabic and English language.
Youssef will be responsible for the ME partners of ILS and offer all help needed to win over contracts for ILS's durable aluminium lecterns.
Feel free to reach out to him via email [email protected]
Or call him directly at +31 853 036 716.
go to top
ILS launches new Q-series
Assen, August 2020 In the expanding Synergy line of modular and integrated lecterns, ILS launched the new Synergy QT and QW Intelligent Lecterns.
Where the ILS Synergy ST/SW and UT/UW allowed mounting a 24 – 27" touch or pen and touch monitor on top of a VESA mount on the lectern head for ease of installation and exchange, the new Q-head integrates the touch or pen & touch monitor of 24 and 27" under a cover with cut-out for the main monitor and optionally for an additional touch panel (Crestron / Extron).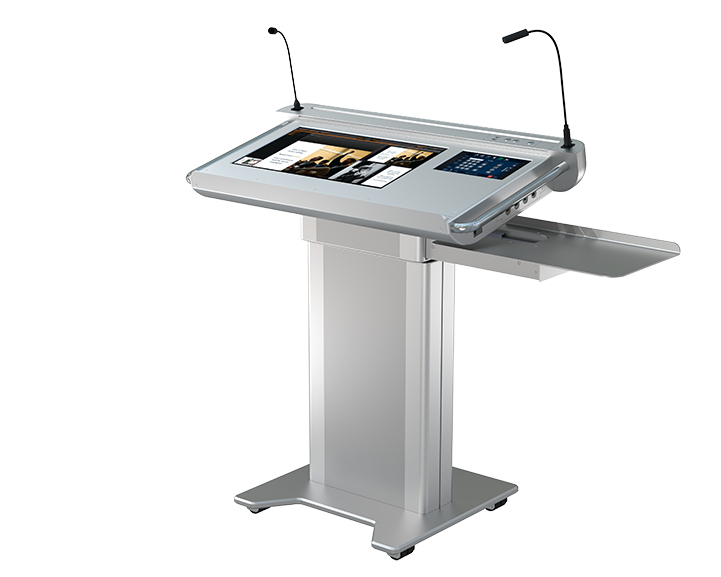 The area to the right of a 24" monitor (Iiyama or WACOM) can be used for presentation notes and mouse space; optionally, it can also have the space for a 7" or 10" touch control panel, all mounted flush directly under an aluminium cover frame. When a 27" touch monitor (Acer) is installed in a larger cut-out, we have the space for a 5.5" touch control panel ( or portrait mode 7" ) next to it.
Together with the launch of the Q-head, we have launched the availability of a sliding side table on the W-pedestal by extending a similarly styled segment of the pedestal to rise up and down with the top. The new sliding side table may be combined with an optional keyboard holder as well as an optional tilt mechanism for the entire head. The new Q-head will also fit on the ILS slim(C) and full rack (K) cabinets in line with our generic selection of any lectern head to fit any lectern pedestal within the ILS Synergy lectern family.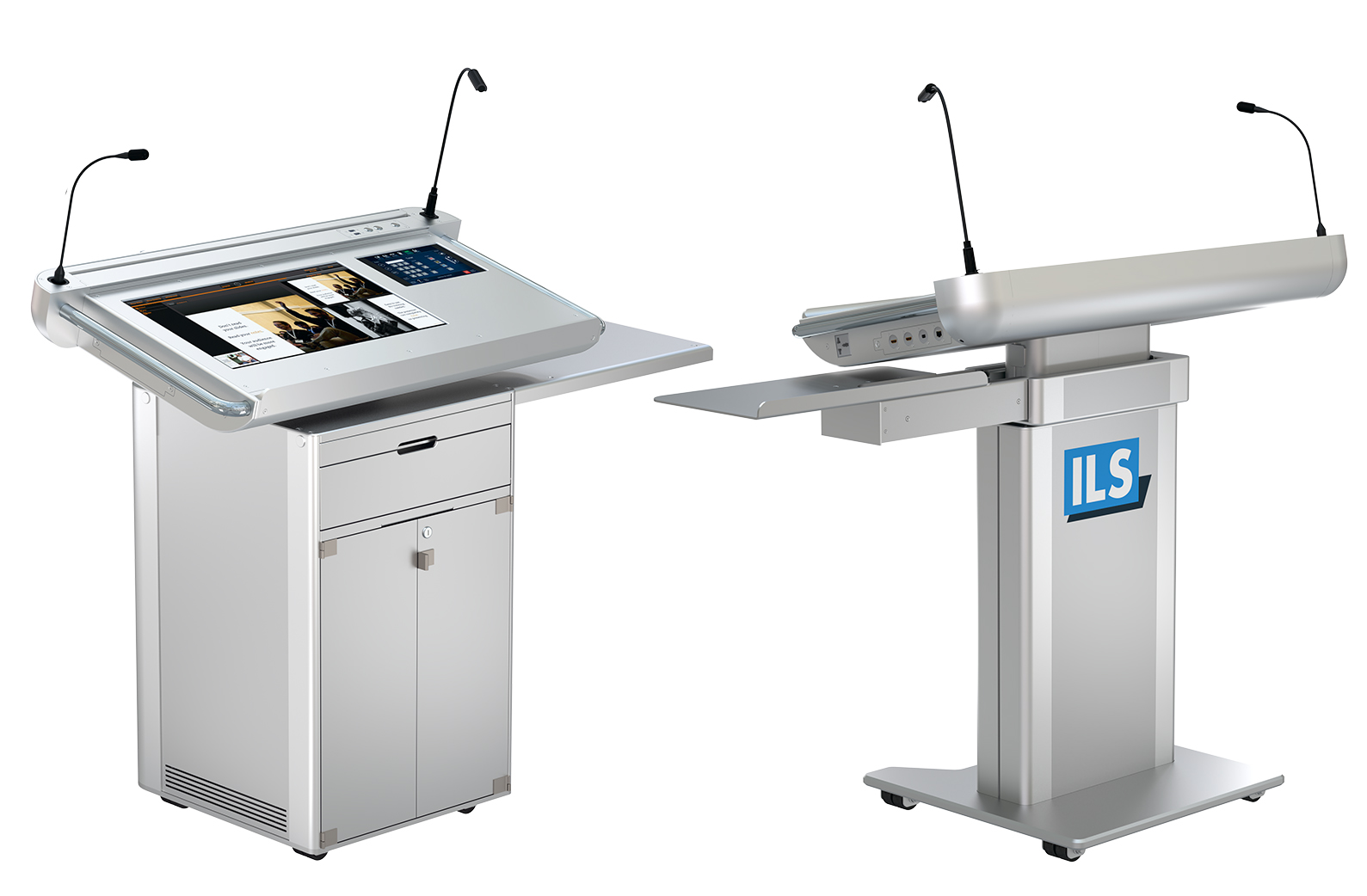 ILS lecterns are almost completely machined from thick aluminium blocks, sheets and ILS specific profiles.
All Synergy systems are made in Assen Netherlands
go to top
ILS has moved to new premises in the Netherlands
Back in 2006 when ILS was founded, we occupied a classroom in the nearby technical Hanze University. 5 years later when also every available closet including the men's room was filled with ILS parts, we relocated to a larger office and a separate warehouse space covering about 230 sqm.
In the end of 2016 we decided for quality reasons that we moved all third party manufacturing of our lecterns in China and Germany back to the Netherlands and do the lectern assembly - but also machining of all the aluminium parts we use to build or lecterns - in-house.
By 2020 this space became way too crowded as we keep growing. We could not build more than 12 units at a time. Our CNC machine was encapsulated by boxes in the warehouse causing a lot of walking the 200 meter between the office and warehouse. We had to farm out machining to companies in the region.
Luckily a large hotel furniture maker had to relocate from a very nice facility 4 km north of our place and we managed to rent this new 800 sqm office, assembly and warehouse space. We added two more CNC Datron systems and walled off a sound-proof area for all 3 machines. Our warehouse space and our assembly area tripled in size and we added a separate engineering room for product development as well as a showroom.

At ILS we intend to remain the top quality player in the metal lecterns market, we keep producing our systems almost completely from thick aluminium, lecterns that are stylish, that cannot be dented, that are open to upgrades as new technology emerges; made to last for decades of intense use. Our key markets are education (intense use), military (solidity), energy (adaptability), medical (human factors), financial services (high technology) and other high profile corporations (style) with their key decision factors in brackets.
Our new visiting address is: ILS, Romestraat 1, 9403DT, ASSEN, The Netherlands
go to top
GDPR Compliance Statement
What happens to your data in communicating with us?
Intelligent Lectern Systems BV (ILS) announces its full compliance with the new privacy and data protection laws to the best of its abilities.
This is how we handle your data:
EMAIL: You may be communicating with us via email, this means that your email address and any other data shared with us in your email will reside in our Gmail on-line mail system. You can read about Google Cloud's GDPR compliance here. Unless you request to be added to our newsletter database, your email address and name will not be moved or shared with any other parties. You can contact our sales department if you wish to be removed from our email system. When you request deletion, we will delete all email threads.
VISITORS to our booth at Tradeshows. If you have handed us your business card, if you let us scan your badge or if you have specifically requested our information on a 1 – 1 during a trade show, you are added to our database. Our mailing list database is stored on servers managed by MAILCHIMP. It is strictly abides by all necessary GDPR demanded privacy and security rules now in use. You can read their privacy policy here. You can unsubscribe from our mailing list at any time. Mailchimp takes care of automatic removal when you opt out, and will even add you to a blacklist so that even if we in the future try to contact you using Mailchimp, or accidentally try to import your email again, you still won't hear from us again. If you have (re-)signed up and are not receiving emails, please contact use so we can manually correct this issue. We use this mailing list service 2 – 4 times per year to inform you.
NEWSLETTER registrations through our website are also managed through MAILCHIMP with the same limited use and protection. If you use the form on our website to sign up, you will be added to our Mailchimp database. Yet you can always unsubscribe in a simple fashion when you receive a mailing from us.
LICENSE REGISTRATIONS to our software. This is the only database we hold locally on our secure remote servers hosted by Hostnet in Amsterdam. We use this database to validate the validity of the software licence that you, our client, paid for. The email contact and name in this database is strictly used for 3 purposes only:

To announce and provide updates to the software
To maintain a subscription service for product support and product updates
To validate support requests

ORDERS you have place with us will include your contact and delivery information. These are used for our order planning and management as well as the invoice. If you did not communicate with us by email (when ad. 1 always applies), scanned copies of your communication may be held for the purpose of order tracking, order processing, warranty validity verification and tax purposes as required by the government of the Netherlands and those countries where our affiliates are located. Such information may be scanned into a database and held for as long a period as is dictated by local tax laws. ILS shall never knowingly share or sell your information held by us in any way to any third party, nor will it make any offers to you that are not relevant to products that are made by ILS.
Our IT support and our webmaster are both trained and keep each other sharp when it comes to being in compliance with the new GDPR regulations. They are under the direction and responsibility of the ILS general manager. If you have any further questions about our GDPR complaince, or want to request a copy of information we have on you, or want to be permanently or temporarily removed from any of our database systems, please contact us: GDPR Compliance at Intelligent Lecterns dot com
Intelligent Lectern Systems BV company locations:
Admin: ILS, Diepmaat 16, 9431MP Westerbork, Netherlands
Lab: ILS, Romestraat 1, 9403DT ASSEN, Netherlands
Warehouse: ILS, Romestraat 1, 9403DT ASSEN, Netherlands
Affiliate: ILS Spolka z.o.o. Podwalna 22, RADOM, Poland
Affiliate: sho-Q BV, Diepmaat 16, 9431MP, Westerbork, Netherlands
Affiliate: Indota BV, Romestraat 1, 9403DT ASSEN, Netherlands
id="#gdpr">
News Archive
Subscribe to our RSS feed
ILS at Infocomm in Dubai.
Dubai, Oct 19, 2012 ILS had a great Infocomm/GITEX participation in DUBAI enjoying constant customer attention from 200 new contacts. This was the first opportunity for the region to sample so many of ILS lecterns and epodiums such as the new Teacher Desk in the S-3 series, the ILS18, the great ILS24 that has enjoyed 100's of installs in the region already, the ILS21 and the renewed ILS22 were on the booth.
Uri Rosenthal (Minister of Foreign Affairs) and Jacques Tichelaar (Provincial Governor) visit ILS.
Assen, Sept 3, 2012. It was back to school for Uri Rosenthal (the Dutch Minister of Foreign Affairs) and Jacques Tichelaar (Provincial Governor) when they visited ILS.
First public showing of the new ILS16 and ILS18.
June 15, 2012, Las Vegas USA First public showing of the new ILS16 and ILS18 compact podiums sculpted out of thick aluminum during the Infocomm in Las Vegas.
New extensive support for control systems inside the ILS range of lecterns.
In cooperation with FHCS, ILS announces its broad control system components support for Creator Platinum product family from both the secondary control panel as well as from the main PC or through a networked environment for the control systems, scalers and matrix switchers up to 16x16.